Il Personaggio / Maurizio Felugo
Le sue capacità sono apprezzate anche al di fuori dei confini della pallanuoto.
Venerdì 24 Novembre 2017
di

Camillo Cametti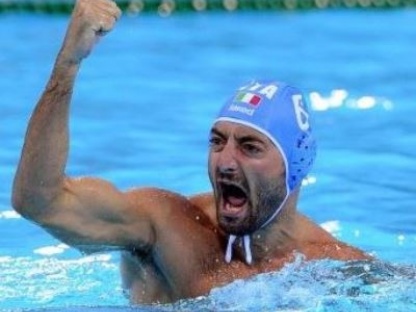 Pallanuoto
Maurizio Felugo, 36 anni, di Chiavari, un'icona della pallanuoto italiana e mondiale, presidente della Pro Recco ma anche membro del consiglio d'amministrazione dello Spezia Calcio, da ieri è pure membro del Consiglio Direttivo della Lega Calcio di Serie B, eletto come consigliere indipendente.
Felugo non nasconde il suo entusiasmo nell'iniziare un nuovo capitolo della sua gloriosa storia di uomo di sport in un mondo diverso da quello della pallanuoto. Dice: "Non vedo l'ora di tuffarmi in questa nuova avventura nel calcio, un mondo che mi affascina da sempre e per il quale metterò a disposizione idee, passione ed esperienza. Evidentemente il lavoro svolto in questi due anni alla Pro Recco è stato apprezzato anche fuori dai confini della pallanuoto ed un grande ringraziamento va a Gabriele Volpi per l'opportunità che mi ha concesso appena terminata la mia carriera da giocatore. La nomina di oggi è certamente figlia del suo coraggio».
Presidente è stato eletto Mauro Balata, già Commissario della Lega B da un paio di mesi. Oltre a Felugo del nuovo Consiglio Direttivo (foto sotto, Felugo è il primo a destra) fanno parte anche Antonio Gozzi, numero uno della Virtus Entella, come vice presidente, e altri sei consiglieri: Francesca Romana Pellegrini, pure indipendente, e i presidenti di società Giorgio Lugaresi (Cesena), Massimiliano Santopadre (Perugia), Stefano Bonacini (Carpi), Marco Mezzaroma (Salernitana) e Massimo Secondo (Pro Vercelli).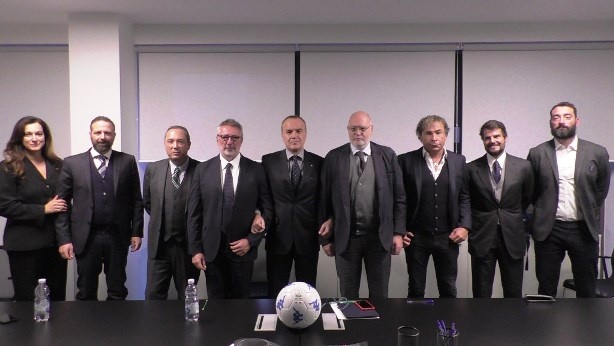 Felugo è uno dei grandi personaggi del nostro mondo. Circa sei mesi scrissi su di lui un lungo articolo per la rivista della FINA, poi pubblicato nella sezione "Heroes of the Past" ("Eroi del passato"). Lo propongo di seguito nella versione originale (in inglese), come omaggio a lui e a beneficio di chi fosse interessato a leggerlo.
A Felugo vadano i nostri più vivi complimenti e i più fervidi auguri di successo anche nel nuovo incarico (sotto, a Roma, in ottobre mentre riceve dal presidente federale Paolo Barelli il trofeo destinato alla Pro Recco - La foto è di Pasquale Mesiano/Deepbluemedia/Inside) .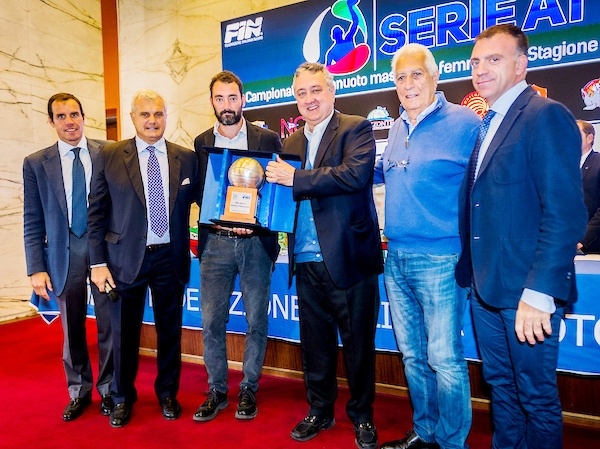 Heros of the Past
Maurizio Felugo, a leader in both the pool and behind a desk
By Camillo Cametti
The essence of Maurizio Felugo (born 4 March 1981, in Rapallo, Liguria) may be condensed in this short sentence: a natural born water polo player with the killer instinct and a natural born leader gifted with the talent of making instant decisions and immediately transforming them in actions.
A long time member of the Italian National Team, the "Settebello", and of Pro Recco, the major world powerhouse among clubs, playing as a driver, Maurizio Felugo followed in the path of his former club team mate Vanja Udovičić to switch swiftly from the role of a leading player in the field to that of a leading figure outside the water, shortly after retirement.
Vanja Udovičić (born 12 September 1982), a former leading Serbian water polo player, since 2 September 2013 is performing the role of cabinet minister of Youth and Sport in the Serbian government. During his illustrious career, which spanned 15 seasons, Udovičić played for Partizan Belgrade, Jadran Herceg Novi, Posillipo Naples, Pro Recco, Mladost Zagreb and Radnički Kragujevac. His most notable achievements at club level were winning the LEN Euroleague twice with Pro Recco, in 2008 and 2010. His best results with the Serbian national team were the gold medals at the World Championship in 2005 and 2009, the European gold in 2003, 2006 and 2012, and three Olympic medals: silver in 2004 and bronze in 2008 and 2012.
Maurizio Felugo retired at the end of the 2014-15 season. Then, in a few months, he had gone from being one of the most important players of the globe to become a top managerial figure. First he took over as Pro Recco's general manager; then, on February 5, 2016, he was appointed president of the most prestigious world water polo club. His managerial escalation is explained by the fact that, meanwhile, Felugo had become the right arm of Gabriele Volpi, a former water polo player, currently a prominent figure in the world of oil business. Volpi, who has double passaport, Italian and Nigerian, spends most of his time outside Italy. In his home country all his business in the sport domain are run through dedicated companies (such as Stichting Social Sport, a Netherlands' company) and Maurizio Felugo. Volpi is not only the boss of Pro Recco but also of two major football clubs: Spezia in Italy, in which Board sits Felugo, and Rijeka in Croatia; moreover he owns a football academy – for young players - in Abuja, the capital city of Nigeria.  
Here is how Maurizio Felugo recalls the day when he suddendly switched from being a leader in the field to being a leader behind a desk, how  he crossed the waters: " I reacted with the tenacity and the humility of a player. The capability to react helps me in the job of manager, never seeking alibis nor shortcuts, but trying to exalt the synergies of the group, the need to row all together. In this, Pro Recco is an example for everyone. Sometimes it needs to teaming up with internal detractors, it takes patience, calmness, and stubbornness to carry on and implement the agreed strategies".
As president of Pro Recco Felugo was happy to celebrate a record set by his club, now coached by one of his former teammate Vladimir "Vlado" Vujasinovic, on 23 April 2017 when they hit the 73rd consecutive win in the Italian championships; an unprecedented winning streak in any sport, started on 13 December 2013 against Posillipo.
As a water polo player Maurizio Felugo started his career in 1988, aged 7, with a Chiavari based club, under the guidance of Gianni Vassallo. In 1998, aged 17, he was transferred to Rari Nantes Savona, a leading Italian club of the same region, Liguria.  Coached by Claudio Mistrangelo, Felugo started playing in Serie A, the top Italian division. During his militance  in the Ligurian team Felugo was selected to represent the National team for the first time, in 2000.
Of those years Felugo has beautiful memories: "I started to have a real contact with high-level water polo in a team coached by Claudio Mistrangelo, a man I really owe much".
After four seasons he went to Naples to play for Posillipo. In his first season there he won the cup of cups, in his second season his first Italian title, "the Scudetto" and in his third his first Champions Cup.
Of the years spent with Posillipo Felugo has beautiful memories too. There he played with Hall of Famer Carlo Silipo, of whom he says: "He is one of all the greatest champions I've played with".
In 2006, after four years in Naples, Felugo moved back to Liguria, namely to Recco, a small city of 9,000 near Genoa,  to play for the famed local club Pro Recco, shortly becoming both its leader and its icon.
In nine years with Pro Recco he won 9 national championships, 8 Italy Cups, 5 Champions Cups, 3 Super Cups and 1 Adriatic League.
Felugo proudly mentions that he is the most Champions Cups winner with 6 (5 with Pro Recco, 1 with Posillipo), only matched by Djordje Perisic who won 6 times the competition with Partizan Belgrade. 
With the Italian national team Maurizio Felugo has participated in 6 World Championships, 3 Olympic Games and 5 European Championships. He won a silver medal at both the 2001 European Championships, in Budapest, and the 2003 World Championships in Barcelona and one more silver at the European Championhsips 2010, in Zagreb.
In 2011, at the World Championships in Shanghai,  he won the gold medal scoring the decisive goal, a fantastic goal that will remain in the annuals of water polo: he shoot from the long distance, pulling out from his throat a terrific scream.
That goal, scored in the first extra time, gave Italy an 8 – 7 victory over Serbia.
The world title represented Felugo's major career achievement, the apotheosis of his career. It will stay there forever.
I will remember it as one of the most thrilling goals ever seen, a goal that prompted the explosion of everybody's adrenalin, in and outside the water.
It reminded me of a similar goal, scored also in a World Championships final, in Madrid 1986, by Igor Milanovic to give Yugoslavia the victory over Italy. Also Milanovic's goal was the consequence of an impromptu throw he shooted from mid field in the 8th extra time, at 3 seconds to the end: a goal that meant the "sudden death" for Italy and the gold crown for Yugoslavia (then coached by Ratko Rudic).
Commenting posthumously Italy's victory in Shanghai, Felugo considered: "The secret is to give the right weight to everything, even to the opponent who overwhelms you for centimeters and kilos. Though the tournament we faced the heaviest teams with a rhythm they could not meet. If you do not use agility and speed against these teams you are dead, to do so you just have to train more than others. "
Rethinking of the last second of the game he said: "When you understand that you are champion of the world you no longer feel the same as before".
Felugo, who is 189cm tall and weighs 85 kilos, claims that in water polo a robust body building is essential, even fundamental, to be successful.
In 2012, at the London  Olympics, Felugo scored 12 goals – 3 in the final match against Croatia -, and closed the tournament as Italy's top scorer. His contribution was crucial in helping Italy to win the Olympic silver medal.
In 2013 Maurizio Felugo celebrated the remarkable figure of 350 caps with the National Team. His career as playmaker of the Settebello" began on 26 August 2000 in Bari, against Croatia. By coincidence, also in Bari he wore the cap of the Italian Team in Italy vs Hungary, a match valid for the World League, for the 350th time.
Italy playing the Magyars masters is a classic and Felugo was happy to attain that round figure in that circumstance, with the Hungarians eager to vindicate the defeat suffered from the "Azzurri" in the quarter finals of the London Games, the year before. Overall Felugo has played nearly 400 matches wearing the cap of Italy.
Maurizio Felugo believes that water polo should be improved. He considered: "Except for some notable exceptions there are often few spectators in the pool, and the media struggle to approach our sport. Rules are sometimes difficult to understand, which does not help. Many believe they have the winning recipe but unfortunately few can cook it" .
Felugo may have won many gold medals but he has also a golden heart and has engaged himself in some charities.
In 2009, after the World Championships in Rome, Felugo took a three- week holiday and flew on a mission in the Central African Republic with two friends. "It was my dream to go there, after so much satisfaction in sports I wanted to take a different holiday, it gave me a lot."
When he came back, he set up with travel companions an association with the aim of organizing charity games. In two years it had already raised 40,000 euros to be sent to Maigarò as a contribution to the construction of a pediatric hospital.
On September 9, 2012, Maurizio married Sara. Among the 200 guests were also water polo legend Eraldo Pizzo, a Hall of Famer currently Pro Recco's Sport Director, and all his national teammates. For the occasion, the wives raised funds to devolve, through their association, to the hospital in Maigarò.
The couple has two fantastic children who keep Maurizio busy when he is at home ("Playing with them is my kind of physical exercise nowadays") : Nina, a 3-year old girl, and Rocco, a 20-month old boy.
Felugo's generous nature prompts him to say: "I would like to try to return all my sporting fortune trying to make happy someone who has nothing".
Maurizio Felugo'strong personality does not allow him to be easily influenced. Unlike other athletes Felugo is not a great music fan; instead he is a fervent Catholic and prays each night before turning the light off.
Besides water polo and football Felugo likes tennis and basketball, two disciplines he could have practised had he not being  been so talented for water polo.
Asked about who was his superhero, Felugo answered: "My daddy".
Indeed a valiant man and a man of values.
Career Achievements
OLYMPICS
• SILVER in London 2012
WORLD CHAMPIONSHIPS
• GOLD in Shanghai 2011
• SILVER in Barcelona 2003
EUROPEAN CHAMPIONSHIPS
• SILVER in Zagreb 2010
• SILVER in Budapest 2001
WORLD LEAGUE
• SILVER in Florence 2011
• SILVER in New York 2003
OTHERS
• 10 ITALIAN CHAMPIONSHIPS (Posillipo '04; Pro Recco '07 '08, '09, '10, '11, '12, '13, '14, '15)
• 6 CHAMPIONS CUPS (Posillipo '05, Pro Recco '07, '08, '10, '12, '15)
• 8 ITALY CUPS (Pro Recco '07, '08, '09, '10, '11, '13, '14, '15)
• 1 CUP OF CUPS (Posillipo '03)
• 5 EUROPEAN SUPERCUPS (Posillipo '06, Pro Recco '07, '08, '10, '12)
• 1 ADRIATIC LIGA (Pro Recco '12)
MEDITERRANEAN GAMES
BRONZE in Pescara 2009; SILVER in Tunis 2001
Acknowledgments
• CONI (Italian National Olympic Committee) Gold Collar on Sports Merit, 2012; "Gold Cayman" in 2016.
The Interview
With your body bild you could have excelled in other sports too…why did you chose water polo? "I've always been attracted by ball games, especially football and basket, but the first time I played with a ball in the water I felt it was the right combination for me, the ball and the water".
What do you think was you major asset as a player? "Overtaking the overwhelming physical power of most of my opponents thinking and acting rapidly;  inspired by a vision I was able to make swift decisions and move accordingly".
Which definition better defines you as player? "Perhaps none. I reckoned myself as a playmaker, a driver, an attacker, a defender…in a word a universal player".
Who helped you to become the great player that you were? "I was fortunate to have all great coaches, both at club level and in the national team: Ratko Rudic, Sandro Campagna, Paolo De Crescenzo, Claudio Mistrangelo, Pino Porzio and Igor Milanovic. To each I owe a lot. Among the coaches currently at the helm of a national team I admire Serbia's Dejan Savic".
Besides you as playmaker, which other players would you name in the ideal "all stars" team of your times? "Stefano Tempesti as goalie, then Carlo Silipo, Vlado Vujasinovic, Tamas Kasas, Boris Zlokovic at centre, Tibor Benedek as left hander".
Talking of "all stars", you were invited to join in the "All Stars" teame that last January faced Australia in a spectacular "Waterpolo-by-the Sea" match which took place in a swimming pool bordering with the ocean, on the famous Sydney's Bondi Beach, …"Yes, I joined them with enthusiasm. I even scored a pair of goals although I had retired from the game two years before. At times the waves came into the pool…indeed it was a spectacular event and the video became viral on the socials, seen by millions"...
Why is water polo beautiful? "Water polo is spectacular because it's unique: a unique combination of athletic gestures and skills in the water. A uniqueness that is enhanced when it is played in portions of the sea nestled in attractive locations…there are plenty of them around the world, especially in the Mediterranean".
Could water polo become a more popular sport? "I twill be hard. Water polo is popular where it first was practised in the sea, notably in the European Mediterranean countries, or Hungary where it first florished in the thermal waters of Budapest's Margareth Island. Unfortunately, in spite of the construction of several swimming pools, water polo did not really raise its popularity in big countries of Europe, or other parts of the world".
Are you in favour of radical changes in the game? "Not really, I don't think they are needed. I believe that neither the players nor the coaches, who know the game and have the pulse of the state of the art,  advocate radical changes. There voices are important, and should be heard".
Your predictions for the World Championships coming up soon in Budapest? "Serbia is a level above the others and, after attaining the historical goal of winning the gold medal at the latest Olympics, they should be able to retain their title. Behind them there are four of five nations more or less of the same level, and they will fight for a place on the podium".
Women's water polo? "Their technical level is growing and their matches have become more spectacular. The United States are the super power. As Serbia they will aim to retain the title in Budapest. Here too, four or five other countries will be in contention for the medals".
How do you attract the youngsters to your club? "We are very active on the social media. We give them the information they want using their own language. Our figures are extraordinaries, at club level we have more contact than anyone else. Sponsors and media like this way of communicating too".
Why is Pro Recco such a prestigious club? "It all comes to its DNA, its legendary story made of endless successes conquered by legendary players, its managerial organisation, its financial solidity are among the reasons. They are also some of the reasons why many top international players would like to play with us. But not everybody is fit to play in a great club such ours: those who come to Recco are aware of the heavy legacy that they are asked to honour when they wear  our cap. Currently we are riding towards our 31st national title; should we make it i twill be twelveth in a row".
How do you feel being the president of the most important water polo club in the world? "It's an honour and a burden at the same time but I'm very proud of it. Actually I was fortunate to have such an opportunity thanks to Mr Gabriele Volpi who greatly trust me and rely on me for his business in sports. When he offered me that opportunity I seized it instantly: in switching from the pool to the desk I was fast…and almost furious".